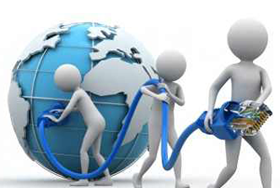 Managing that infrastructure is a complex, difficult, and often unpredictable task. How do you minimize the costs of managing these systems while keeping your company focused on its core business?
We offer flexible support services tailored for your business needs and IT operational services to enhance systems availability and performance covering the following:


1. Network setup & installation:
Regardless the size, complexity or environment, Our team of engineers is up to any challenge. First they will survey your office to determine the perfect equipment that will work for you. They also determine the needs for each computer to be integrated in the network. Getting your network to work for you is more than buying the right hardware: professional installation and configuration optimizes the returns of your investment.
2. Wireless networking:
Wireless networking allows laptop users to access network resources from locations where wiring is not available, providing increased flexibility and productivity. A physical survey of your premises is done to identify the best possible locations to install access points to ensure 100% wireless coverage, along with maximum performance, within the desired area.